d2 Content is a component for Joomla! - with a FREE and a PRO version -  that helps your customers manage and edit items in the backend more easily.
d2 Content works along with Joomla's standard Articles Manager (com_content) and with your existing articles and custom fields (since d2 Content PRO 2.1).
What is different?
You will get an easy form for editing your content in the backend - just the fields you need.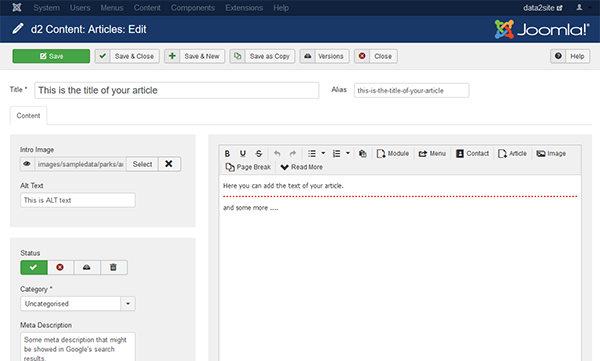 Makes SEO easier
Add the
meta description just
beside your content.
Easy design
Never forget your
intro image again and
have a great design on your site
Improved UX
Focus only on the
important fields when
editing your content.
Our experience
We have created websites for many years for our clients and honestly, we can't remember how often we explained to them which fields to edit in the backend and which fields not to touch. It never worked out and they called us again, asking ...
why something on the website is not showing up or
why the sorting does not work
or why they are still not number one on Google search results.
Often they missed the "meta description" which is essential for Google search results. Or the changed the wrong date field.
Joomla is great!
Joomla gives you all the options you want ... but for normal users that might be to much, they are just overwhelmed. We have counted the fields for you in the Joomla backend article form:
Fields
Tabs
Layout
Support
Price
Joomla
76
6
(+ custom fields
and plugins)
1 static form
for all users
General Joomla
Support Forum
EUR 0,-
d2 Content FREE
9
1
(+ custom fields
and plugins)
1 simple form
for all users
d2 Content
Ticket System
EUR 0,-
d2 Content PRO
2-76
you decide!
1-6
(+ custom fields
and plugins)
unlimited,
individual forms
per usergroup and
per category
1 business day
d2 Content
Ticket System
EUR 49,-/12 mon.
d2 Content is easy
With d2 Content, we are solving these problems:
Only the fields you need
All fields at once, even custom fields
Works with custom fields (if needed)
Intro Image in articles list (optional)
Customizable views in PRO version